Instructors who complete the CLT's Orientation to Online Learning gain basic familiarity with theoretical and practical aspects of designing an online course, starting from either the adaptation of a traditional course or the creation of an entirely new one, as well as with the resources available to them at the University of Hawai'i at Mānoa. The series covers three basic skill areas: 1) Content Development; 2) Interaction; and 3) Technology, and progresses through six face-to-face sessions supplemented with online content and interaction. Each of these sessions, scheduled every two weeks, provides guided, hands-on practice and consultation opportunities to develop a fully online course.
Criteria for Spring 2014 Badges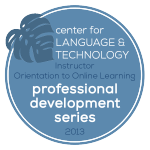 Instructors who received a badge for the Orientation to Online Learning (above) in the Spring 2014 successfully earned the 3 badges listed below.
The following is a list of the specific tasks completed for each of the badges: